Oleg & Christine Borkowitchenko were a unique couple and the founders of a unique gift known as Send the Word artwork and greeting cards. Originally from Germany and Serbia respectively, they lived out their final season in Ontario, Canada.
One of their sayings was "Let us be about our Father's business – Let us send out His Message" and what better way then by Send the Word. Though, they both passed away in 2010 and 2011, the vision and baton was passed on to Lynne Johnston, pictured between the two. She was blessed to know this awesome couple and through Faith Five Fellowship of Ministries, is making Christine's handiwork available.
Whether it's a card or piece of artwork, with a message through poetry, each piece is rich in creativity and beauty and will enhance and build up any individual or setting. This is a one-of-a-kind, end of era expression that you or your loved one must have. Whatever the occasion, there's a word in it for you! Let it live on in this generation and beyond through you.
For more info, to purchase individually or to buy in bulk, please contact: Lynne Johnston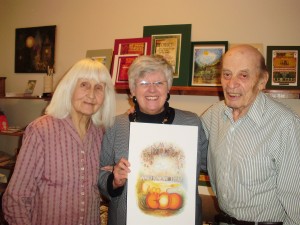 To view cards go to:
https://www.facebook.com/sendtheword
Portraits
[slideshow id=3]